Entrance Mat Systems
Facility Flooring has a full selection of outdoor and indoor matting for professional and commercial use. Indoor matting is available in single zone, multi-zone and multi-functional entrance matting in a variety of colors and materials that suit any entrance to create a total matting solution for a comfortable yet safe entrance.
Entrance Flooring Systems
Contract and Installation Matting
Premium quality barrier matting, designed to remove walked-in moisture and finer dirt particles in large indoor entrance areas, including wall-to-wall applications.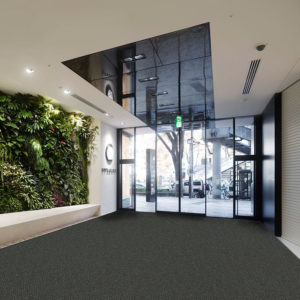 380
Indoor Contract Installation Matting – 9 mm
Large Entrances
Heavy Traffic Areas
Wall to wall, recess frames and stairs
High water absorption (>5 liters per m²)
Custom lengths:
200 cm x 20 m, 135 cm per linear meter, 135 cm x 20 m, 200 cm per linear meter
Available colors:
Antracite, Cobalt, Granite, Mocha, Slate Grey
389
Indoor Contract Installation Matting – 8.5 mm
Large Entrances
Heavy Traffic Areas
Wall to wall and recess frames
High water absorption (>5.5 liters per m²)
Wave or twine design
Custom lengths:
130 cm x lm, 130 cm x 20 m, 200 cm x lm, 200 cm x 20 m
Available colors:
Twine Black, Twine Blue, Twine Charcoal, Twine Grey, Twine Red, Twine Taupe, Wave Black, Wave Blue, Wave Charcoal, Wave Grey, Wave Red, Wave Taupe
387
Indoor Contract Installation Matting -8.5 mm

Large Entrances
Heavy Traffic Areas
Wall to wall and recess frames
High water absorption (>5.5 liters per m²)
Contemporary streaked pattern
Custom lengths:
130 cm per linear meter, 130 cm x 20 m, 200 cm x 20 m, 200 cm per linear meter
Available colors:
Blue-Black, Brown, Charcoal, Grey, Red-Black, Taupe
388
Indoor Contract Installation Matting
Large Entrances
Heavy Traffic Areas
Wall to wall and recess frames
High water absorption (>5.5 liters per m²)
Plush uni-color
Custom lengths:
130 cm x 20 m, 130 cm x lm, 200 cm x lm, 200 cm x 20 m
Available colors:
Black, Blue, Brown, Charcoal, Grey, Red, Taupe
385
Indoor Contract Installation Matting
Large Entrances
Heavy Traffic Areas
Wall to wall and recess frames
High water absorption
Monofilament for extra brush function
Custom lengths:
130cm x linm, 200cm x linm
Available colors:
Black-blue, Brown, Charcoal, Grey, Sand Brown
113
Indoor Contract Installation Matting
Heavy Traffic Areas
Wall to wall and recess frames
Virtually indestructible
Edges will not ravel
Custom lengths:
200 cm x 20 m, 200 cm per linear meter, 400cm x linm
Available colors:
Autumn Black, Autumn Brown, Autumn Burgundy, Autumn Green, Autumn Ochre, Blue, Brown, Burgundy, Charcoal, Green, Grey, Natural, Red, Royal Blue