SWIMMING POOL MAT
Openwork mat made of environmentally- friendly poliethylen is a perfect solution for wet and moist places.  It does not only protects feet against getting wet but prevents from the risk of falling as well.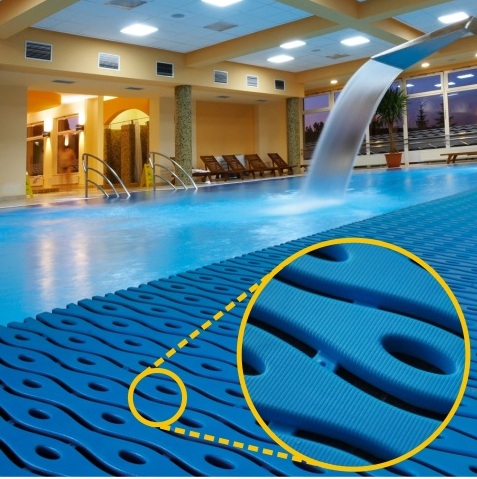 ---
PRODUCT FEATURES
Special "riffled" surface of the mat considerably eliminates the risk of a foot slide. Pleasant to touch, water -resistant and crack -resistant. It is an ideal solution in places such as swimming-pools, baths, locker rooms, bathrooms, fitness clubs, balconies, terraces, bathrooms or gardens.
---
SIZE
Width: 0,6 m
Roll length: 12 m
Height: 9mm
---
Colours 
---
Accessories
Connectors
Thanks to connectors, it is possible to join stripes of the mat, what makes it possible to multiple the width of the mat 60cm, f.ex.: 120cm, 180 cm wide, e.t.c.
Anti Slip Caps
Special caps are designed to additionally hinder moving to the mat after the surface on which it is located. The underside structure of the mat has special spaces whose task is to drain water from the bottom part of the mat.
---
---
CHECK OUR OTHER ANTI-SLIP PRODUCTS
(Click on the pictures to see the details of the products)
---
Need help? Please don`t hesitate to contact us:
+353 (0)62 76265
+353 (0)85 123 4899
info@facilityflooring.ie