Product Description
Luxury Vinyl Tiles
With a vast range of designs drawn from the natural world and major design trends, luxury vinyl tiles
provide excellent performance and flexibility with high-design appearance. Available in tiles and planks,
the collection is ideal for commercial applications such as stores and shops, hospitality, offices and housing.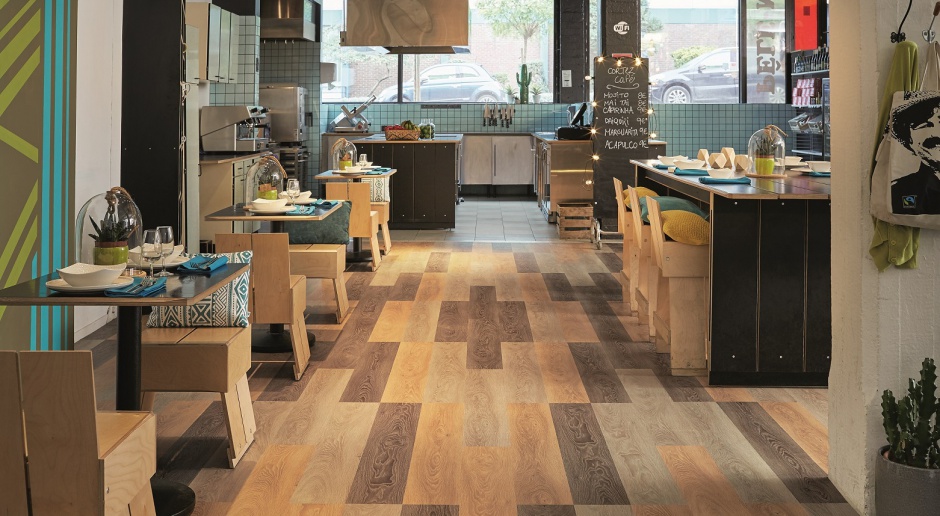 Click provides the perfectly adapted traffic resistance while offering easy installation and low-cost maintenance.
Choose from a wide offer of beautiful and versatile designs.
---
ESSENTIAL CLICK
THE IDEAL CHOICE FOR NEW BUILD AND RENOVATION IN DOMESTIC ENVIRONMENTS
Essential Click is the ideal solution for domestic environments. It requires no or little subfloor preparation and can even be installed on some existing flooring. Its click system allows a floating installation, avoiding the use of glue, making the installation 20% quicker than with glue-down products*. Future renovations are also easier and cheaper as the product can be removed with no damage to the subfloor.
*estimation – not binding
EXCELLENT ACOUSTICAL CAPACITIES
Acoustic reduction of 19 dB with Tarkomfort Premium underlay.
ESSENTIAL CLICK FINISHING TOUCH
All references feature also perfectly colour-matched skirtings for a perfect finish. On top of this, a range of stylish accessories ensure a flawless finish – please contact us for more details.
ADVANTAGES
Click installation: doesn't damage the subfloor
Top Clean treatment for easy cleaning
Low TVOC emissions
100% phthalate free
10 years warranty
---
---
INSPIRATION CLICK
The iD Inspiration Click range features a refined palette of expressive wood textures. The motifs on all 20 designs were exclusively created to match the natural essence of wood.
Think differently about wood designs, because Floor is the new playground.
Click installation requires little to no subfloor preparation and can be installed over existing flooring
ADVANTAGES
Fold-down click system: one of the most efficient click on the market
Colour-matching skirtings to match all designs
Treated with TopClean XP for a tougher surface and simpler care
Helps improve indoor air quality with very low VOC emissions
Uses phthalate-free technology based on alternative plasticizers
---
TILT (Tarkett Interlocking Tiles)
TILT is our floating floorcovering solution designed for commercial or industrial applications in both new builds and renovation projects. Easy to install, it keeps installation time to a minimum, and TILT also reduces business losses due to construction downtime. Good value for your money, TILT saves you time and is an invaluable cost-saver on any construction project. Choose one of two practical tile formats, 7 colour choices and 2 patterns, TILT is the ideal solution for all commercial areas, whether small, mid-sized or large surface.
ADVANTAGES
Easy and quick installation thanks to its interlocking connection (no glue, no click) 20% time savings and 10% lower installation costs
Ready-to-use solution: overnight installation
Suitable for high traffic applications
Long-lasting performance
Easy to remove & to renovate
No damage to subfloor