There's no doubt about it, 2020 has been a challenging year for us all since the initial outbreak of COVID 19, and the reality is that the practical challenges that the pandemic has presented us with are unlikely to go away anytime soon.
Preparation is key
It's undisputed that preparing your workplace, commercial or retail premises is of the utmost importance to ensure that your employees and customers are safe and healthy as normality resumes. So what are the options open to you if you want a quality practical and replaceable way to provide guidance into your office easily and safely? DESSO Icons, a sustainable replaceable wayfinding carpet tile with multiple directional options, is a great place to start.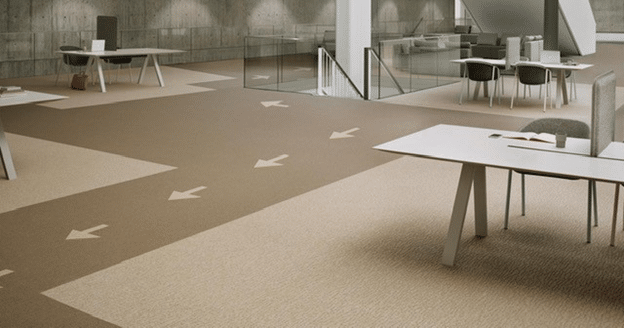 What are DESSO Icons?
DESSO Icons are wayfinding carpet tiles, they are a flexible, simple and cost effective way to guide employees and visitors into your office or premises safely and easily. They come as one tile with multiple direction options – the inner circle is modular so it can be easily places to point in any direction.
Are they cost effective?
Yes, to install all you will need to do is simply remove your current carpet tiles (50cm x 50cm) and replace them with DESSO Icon wayfinding tiles where required. So no waste, and you only need to replace tiles as and when you need them. When you are finished with the DESSO tiles, you can simply remove them and lift as required, and revert back to using your old carpet tiles.
Anything else I should know before ordering them?
DESSO Icons are designed with international safety colours in mind – black and yellow, which makes them instantly recognisable. In these colours they are ready to ship quickly, other colour combinations can be ordered too to fit your office interiors palette.
To find out more about the DESSO Icon wayfinding tiles, and how they could help you in your workplace, call Facility Flooring, Ireland's premier Flooring, Matting and Anti-Slip experts on 062 76265 or by emailing info@facilityflooring.ie